PS polystyrene is a synthetic polymer obtained by free radical polymerization of styrene monomer. It is a transparent thermoplastic with a high glass transition temperature of 100°C. Polystyrene itself is resistant to acids and low-energy alcohols. It can be softened by the erosion of many hydrocarbons, ketones and other high-grade fatty fats, and is soluble in aromatic hydrocarbons. middle.
High impact polystyrene (HIPS) is a thermoplastic material. It has developed into an important polymer product in the world. This general-purpose product has a wide range in impact properties and manufacturing properties. It has good chemical stability and excellent balance function. It can produce qualified thermoformed parts at lower cost.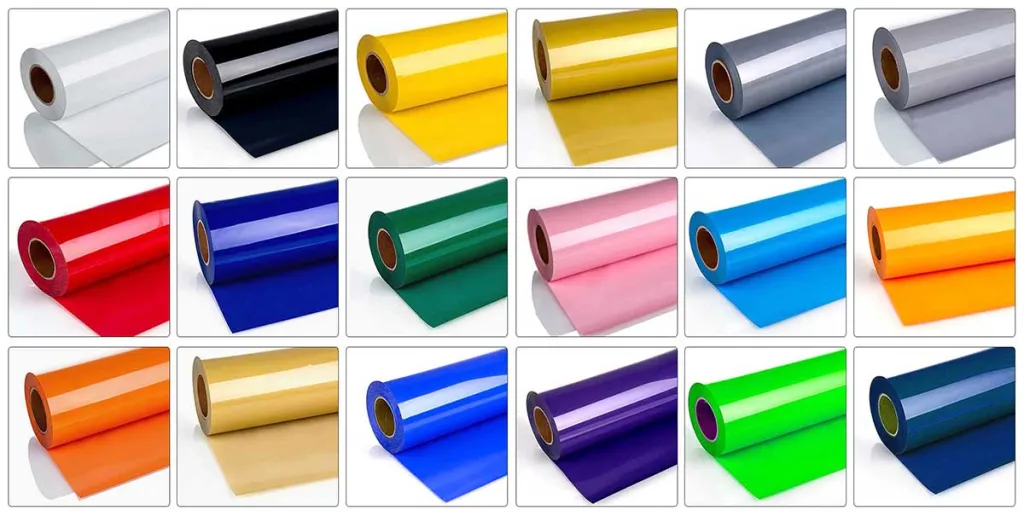 Features of HIPS plastic sheet
♦ Excellent electrical insulation, good high frequency insulation material, excellent arc resistance.
♦ Polystyrene is a highly transparent material with high surface gloss.
♦ Polystyrene can be freely colored and easy to print.
♦ Odorless, non-toxic, no fungal growth.
♦ Poor mechanical properties, hard and brittle, susceptible to solvent corrosion stress cracking.
♦ Low surface hardness, easy to be scratched; poor heat resistance, low heat distortion temperature.
Applications of HIPS sheet roll
♦ Production of disposable containers and lunch boxes.
♦ Can be widely used in the light industry market, home decoration, lighting instructions and packaging.
♦ It is a good electrical insulation and heat insulation material, which can produce various instrument shells, lamp shades, parts of optical chemical equipment, and dielectric layers of transparent film capacitors.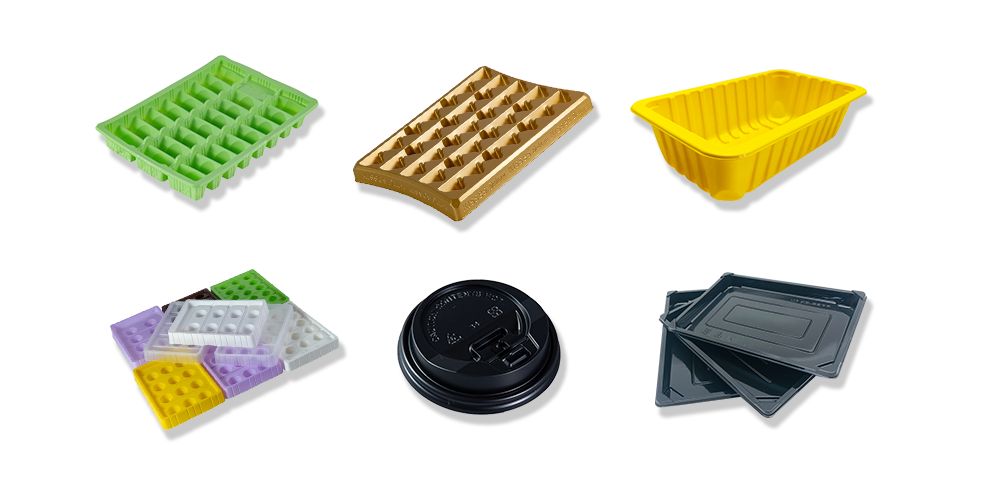 Advantages of HIPS plastic sheet roll
1. Good light transmittance, moisture-proof, waterproof and thermal insulation.
2. Smooth and easy to print and film.
3. Can be formed and reprocessed.
4. Wide range of uses, easy to dye and paint.
5. Non-toxic.
6. Light weight, easy to transport and process.
7. Good insulation properties, widely used in different electrical equipment.
8. Good chemical resistance, better than most other plastic materials.
9. Easy to clean and maintain.
Parameters of HIPS sheet roll
| | |
| --- | --- |
| Product Name | High Impact Polystyrene Sheet Roll |
| Material | 100% virgin HIPS raw material |
| Color | Natural, Color, Black, White, Transparent, Translucent, etc. |
| Certificate | SGS, ROHS, ISO, etc. |
| Grade | Medical Grade, Food grade and Conductive Grade |
| Width | 300~1400mm |
| Thickness | 0.2~2mm |
| Composite | HIPS+PE, HIPS+EVOH+PE, PS+PE, PS+EVOH+PE |
| Application | Mainly applied to the packaging of food, medicine, electronics, cosmetics, gifts. |
| Sample Time | 1-3 days |
| Delivery Methods | Ocean shipping ,air transportation, express,land transportation |
| Payment Term | Credit card,T/T, L/C, Western Union, Paypal |
| Transparency | Transparency, Semi-transparency, Opaque |
| Surface | Glossy/Matt |
| Form | By roll or cut sheet form |
HIPS Sheet Roll Item
Conductive
Dissipative
Antistatic
Normal
Density
1.06g/cm3
1.06g/cm3
1.06g/cm3
1.06g/cm3
(±0.02)
Thickness
0.3mm~2.0mm
0.3mm~2.0mm
0.3mm~2.0mm
0.3mm~2.0mm
(±0.02)
Color
Black
Nature, Black
Nature, Black
Transparent, Nature, Black
S. R.
104-6
106-8
109-11
≥1012
(Ω)
Max. Width
680mm
810mm
810mm
810mm
(±1.0mm)
Max. Weight
125kg
125kg
125kg
125kg
Why choose PULIXIN?
Our Factory
PULIXIN is an excellent leading HIPS plastic sheet roll manufacturer in China. Our factory covers an area of ​​more than 10,000 square meters and has 4 rigid polypropylene sheet production lines with international advanced equipment. It can produce 3,000-5,000 tons of HIPS plastic sheets per month, and the maximum storage capacity exceeds 10,000 tons.

Our Service
1. Your inquiry will be answered as soon as possible.
2. If you pay the postage, you can get the sample for free
3. Strong production capacity, short production cycle and on-time delivery.
4. Welcome to visit our factory anytime.
5. We provide OEM service.
Quality Inspection
100% raw materials, all materials are environmentally friendly.
Strict quality inspection procedures are implemented to ensure that the delivered HIPS plastic sheets meet the production needs of customers.

Transport protective packaging
Step 1: Two Flow PE protective films.
Step 2: Outside the PE film, wrap with aluminum foil. Aluminum foil has good heat resistance, water resistance and scratch resistance.
Step 3: Each layer of HIPS rolls is separated by cardboard to prevent collision.
Step 4: The outer packaging is marked with product specifications and QR codes, which can track the source of product production information.
Step 5: Wrap the outer layer with cardboard, and then wrap it with film to prevent scratches and collisions on the outer package.
Step 6: The top of each pallet is covered with cardboard and the bottom is a non-fumigated wooden pallet.
(The picture below, from left to right is the packaging order)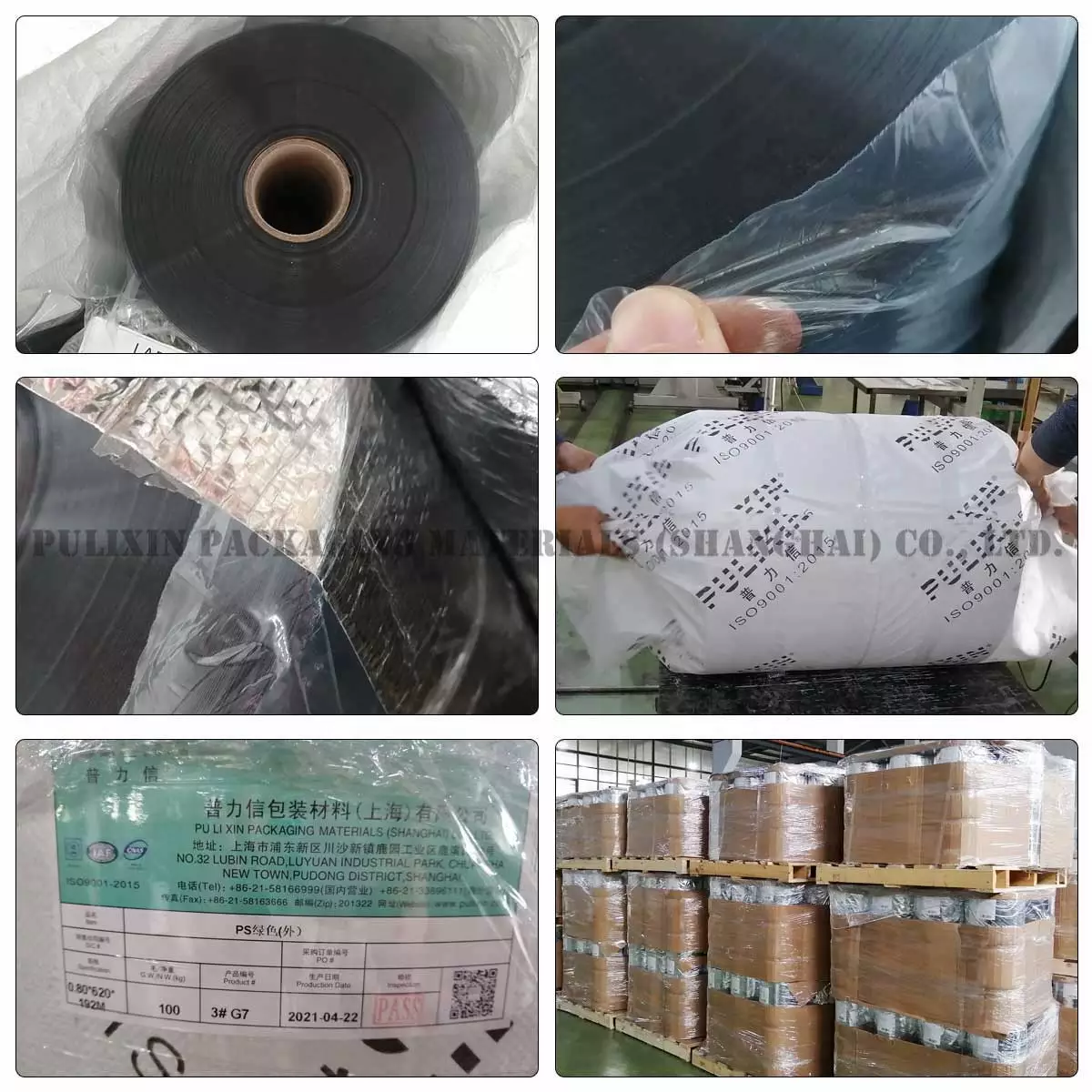 Fast delivery
HIPS sheet rolls can generally be produced and delivered within 7-15 days.
Our delivery methods include sea, air, rail and international express. Before the product is transported, we will fix the packaged product in the container to ensure waterproof, fireproof and anti-extrusion, and ensure that the product is safely delivered to customers.​​​

PULIXIN is a professional plastic sheet manufacturer in China. We supply rolls of polystyrene sheet (PS) in various specifications, especially HIPS (high impact polystyrene) sheet. Our products are safe and environmentally friendly, with guaranteed quality, and sell well all over the world. If you need to purchase PS sheet, you are welcome to visit our factory, we will provide you with the best product experience!